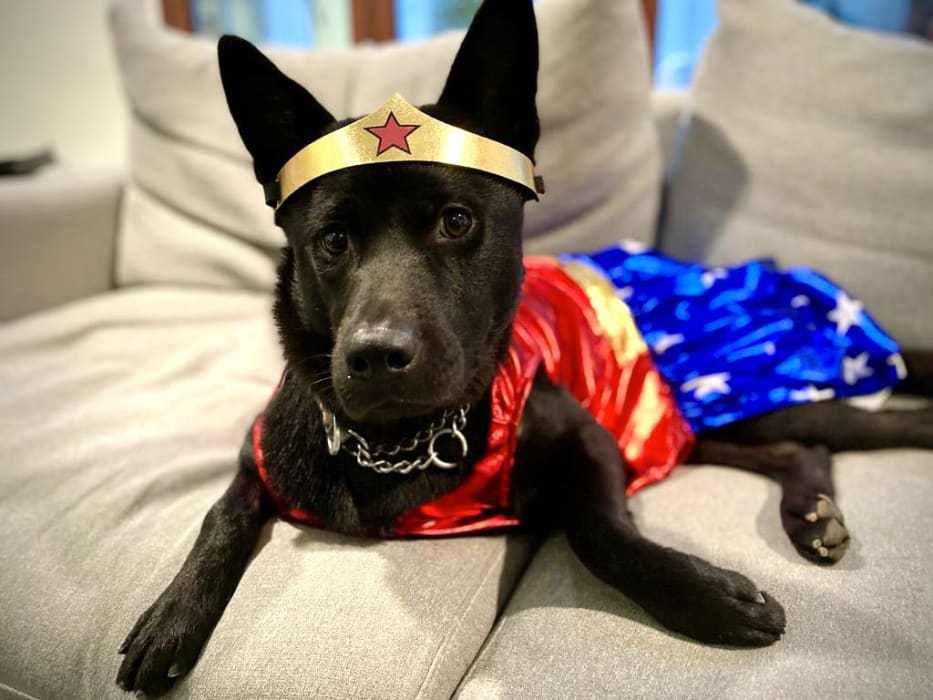 The team at Buddy Bites love a good dress up and we've rounded up our list of favourite 2021 Halloween costumes to share with you! What better time to whip out a few costumes and walk about town around in — your pooch that is. But of course, why not join in the fun too!

Scroll for some good old doggie content of our much-loved furry companions.
@exploringwithniko
We adore this vampire dog. Niko bites into a bloody human hand, adding to the goriness and we simply love it! (It's hard enough to train dogs to hold something in their mouth, let alone a scary severed hand.)
@finn_sta24
Creativity takes on whole new meaning in this blossoming sunflower of a dog. Check out this awesome paper flower made-up of hand-cut petals in brilliant yellow. This costume brightens up Halloween with a ray of sunshine.
@george.ballbie
Doggie Deliveroo courier? Yes please! We are admiring this full outfit in Deliveroo parka, hat, and delivery bag combo. Our food might end up half-eaten, but in the end, we'll forgive & forget because he's just so cute!
@jac_kollie
We know what you're thinking. It's another border collie. But we're not biased, we promise! We just love this absolutely cute witch costume. Accessories are the best. The hat makes everything THAT much better.
Featuring Kayla

Marvel fan? 100%. It's Batman to the rescue with Kayla. We love the full cape and the belt. Now we need a side-kick. Any takers to be Robin?
@minerva_and_obi

We're also a big fan of Disney and who knew there was such a creative Aladdin costume!? Let's cast Aladdin & Jasmine aside and focus on the real stars of the show — Abu & the Magic Carpet.
@poppythetropicalcorgi

Talk about Regal! Poppy is pure royalty in this photo. Look at that perfect dog-sized crown perching on her head — not to mention her cape. This is luxury at its best!
@shibani Featuring Bean

We're back for another round of Marvel love. Wonder Woman makes an appearance as Bean in metallic goodness. Yes, Bean is a true Wonder Woman. Please always wear this headpiece!
@socialpiglet

"Groovy Baby!" We're feeling disco vibes with these polarised sunglasses and wig. Turn on the tunes!
@thatdog_blu

Talk about unusual costumes — this is one for the win! Blu sits tall with a sock mask from Fantastic Mr. Fox. He's not even fidgeting. Brownie points to you Blu!